Vincent CROZET a effectué son année ARPE au sein de DPRI-KU (Disaster Prevention and Research Institure, Kawase and Matsushima laboratory, Kyoto University) en 2014-2015.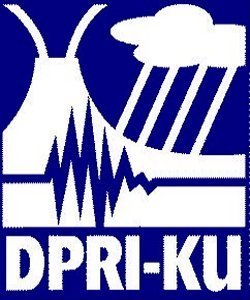 Within the study of ground motions and their relation to observed structural damages during the 2011 Off the Pacific Coast of Tohoku earthquake, a mean to reproduce strong ground motions recorded during this event has been studied. The uncommon rupture area estimated to 500 km long by 200 km width and the released energy Mw 9.0 created strong ground motions widely in Japan, with a PGA of 2700 gal (cm/s 2 0 for NS component and 2900 gal for vectorized sum acceleration occurring in Miyagi prefecture at a K-Net site
called MYG004 (Tsukidate area).
However, despite the intensity of the recorded ground motions the damage in this area were quite low and mainly consisted in non-structural parts of the infrastructure damages such as roof tiles fall and broken windows. The unpredictability of such observation as well as the difficulty to understand the extreme earthquake events lead to discussion and questioning about : the trustworthy of the recorded ground motions at MYG004 and the specificity of the geological structure in Tsukidate area that will be discussed in part 2.1. Moreover the inconsistency of Japanese JMA intensity scale with building damage observation around K-Net site MYG004 brought strong doubt to people living in Japan about the accuracy of such an intensity scale.
This questioning about JMA intensity scale was discussed in the mid term report. Therefore it was aimed to reproduce by the use of a shake table the ground motions recorded at MYG004 on a wooden frame to provide information about the Japanese traditional wood frame behavior under such severe condition.
This goal suffer from an important drawback as common shake table cannot perform such a high acceleration. Indeed Kyoto university shake table can reproduce ground motions with a maximum acceleration up to 1 g, 981 gal. Consequently possibilities to create a flexible structure able to amplify the shake table acceleration in a specific frequency range was investigate. This structure use resonance of one degree of freedom oscillator in order to provide the amplification. The development of this structure and the wood frame experimental results will be exposed in part 3 and 5. This report will present the advancement on this project performed at Kyoto University since October 2014 in the Disaster Prevention and Research Institute. It will mainly show achievement performed form April 2015 to August 2015, since study completed from October 2014 to April 2015 has been documented in the mid-term report.